He decided to be a ghost for his school party and parade, so we went shopping for material.
We used two different gauzy materials and four separate layers. Since I knew he wouldn't tolerate material on his head for more than 30 seconds, we made a hole for his head.
I cut holes for his arms, rolled the holes under and used fabric glue to keep it from fraying.
I painted his hair white outside and had him wear a garbage bag to keep his clothes clean.
I painted his face and neck glow-in-the-dark white. There was black paint for his eyes, but Alexander vetoed that.
Add the gloves and he was set!
Spooky!
BOO!!!
The girls and I went up to Alexander's school to watch the Halloween Parade.
embedded video below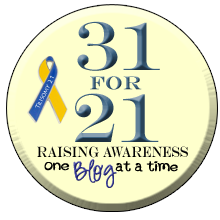 Grab This Button