Once upon a time in a land far away when we had spare time and no kids, Mark and I used to frequent the thrift stores and antique malls. We loved to thumb through old vinyl and all manner of other treasures. Much of the time we left empty handed but when we found that certain something that was priced just right, oh baby it was like winning the lottery.

We have been known to do more than shop at actual stores or garage sales. Mark and I have found the most unbelievable prizes in the garbage. Yep, I said tossed out, thrown away, on the curb garbage. We don't drive around looking for stuff on curbs and we have not done any dumpster diving, but we have taken home other peoples trash. "Ew Gross" you say?!

We don't do it often. In fact it was a decade ago that we had our last big score. Mark and I were living in an apartment building that had a thousand units in Washington D.C. The garbage area was huge to handle so many people. It was also near one of the laundry rooms. On a day that I had stayed home from work to do the wash (playing hookie) we saw a seriously grody (did I just say grody?) but intriguing secretary desk next to the dumpsters. It was covered in a layer of muck and full of junk, including a few old roach carcass shells. We discussed it and agreed to bring it upstairs.

I began cleaning this nasty desk which although it was filthy, it was easy to clean. As I was going through the desk I found old stamps and a letter from the 1940s. I also began cleaning off a small framed picture of a cat and goldfish. It too was so dirty that at first you could barely make out the picture. Once I had it cleaned up I started yelling for Mark to come and see what we had nearly left behind in the garbage. According to the information attached to the back, it was an original film cell from Pinnochio framed by the Courvoisier Gallery (I can't remember what year). The cell of Cleo (the fish) has slipped out of place but the cells themselves are just fine. We aren't sure how much it is worth today but we're guessing a pretty penny. It is still packed away somewhere so I'll post a picture when I can.

The desk was not done revealing its treasures. I found a small jewelry box which contained a silver pill box with Orient design and enamel trees and back ground, a silver broach, a string of pearls (which turned out to be costume pearls), and all number of other pins. We had two pieces appraised, including a carved ivory rose broach which appraised at $350. The pill box appraised at $175.
The greatest treasure, as it turns out, was the desk itself. After cleaning and polishing its dark walnut wood and clawed feet, and brass handles I give you the desk we found next to the dumpster.
a view from our porch
So why this story after a decade has passed? It happened again. Our street has been closed for the past week as they dig it up to replace a water main, so I had to wind my way around nearby streets to find parking. I ended up taking a wrong/right turn onto a cul du sac. At first I was irritated with myself, until I saw it. At the curb was a gorgeous buffet server.
I pulled up to it and got out to take a look. It was in front of a house that had a for sale sign/sold in the yard. I called my mother in law and we agreed that I needed to take it home. Thank goodness for the CRoutan and the stow and go seats. I moved the car seats out of the way and knew I had plenty of room. The owner came out and asked if I needed a hand, to which I said yes as this is a heavy piece. She was surprised that it had sat there for 3 days. They were moving and she didn't want to deal with getting the hinge repaired on the right side door as her husband isn't "handy." It looks antique but she had purchased it new from a furniture store 3-4 years ago for $700. Aside from needing a new screw there are 2 small pen marks. That's it. That's all that is wrong with it. For probably 15 cents and a turn of a screw driver I can fix it myself. If it turns out to be more complicated, Mark's dad works in a cabinet factory and has said he could fix it quite easily when they come out in December for a visit or he can mail us the right piece.
so you have a better idea of the size
So, because putting my valuable breakables in this server would be like letting 2 bulls loose in a china shop, I have to use it for something else until the girls get older. I've decided to make it the worlds fanciest toy cabinet. Not too bad for picking it off the curb.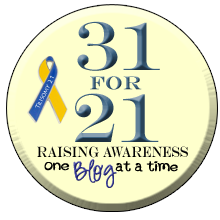 Grab This Button