During my 2nd pregnancy (as with the 1st) we had declined prenatal screening. Mark and I were in agreement that the diagnosis of a health concern such as Down syndrome would not alter our decision to continue the pregnancy.
At our 20 week ultrasound (US) we learned that we were expecting a girl. The US took an unusually long period of time so Mark had sent his mother in and was watching over Alexander in the waiting room. Still lying on the tech's table, my mother in law (MIL) Paula and I learned that they strongly suspected that our baby had Down syndrome. They told me the news with my MIL in the room, but it didn't occur to them to bring Mark back. Though I rarely revisit this memory, I do recall sobbing - from the depths of my soul - while curling into a fetal position. Paula was a wreck (but simultaneously a pillar of strength) and asked if she should get Mark. We bonded that day in a way that I cannot describe and I am so blessed to have her in my life. Mark was the first person I delivered the news to and it was the hardest thing I have ever had to tell my husband.
That was on a Friday afternoon. I didn't return to work that day as planned. In fact, I didn't go back for a week. When I called my boss after the US to let them know I wasn't coming back that day, I couldn't get the words out. Our Director knew I was having a US and guessed from my sobs that the results weren't good. Being the AMAZING woman that she is, my tears were enough information. I'll never forget that Shannon.
Early the next week we had a
Level II ultrasound
and the perinatologst agreed that the soft markers pointed strongly to Down syndrome. Ultrasounds cannot give a diagnosis, however. After doing a lot of research on the risk of miscarriage by doing amniocentesis at my stage of pregnancy by a perinatologist (thank you Saima), through prayers with our pastor and family, a river of tears, and soul searching, we decided that we needed to know and went forward with the test. Within a couple of days we got the 1st round of results back. There were 2 rounds of tests. The first was 90 (something) % accurate. The 14 day test is closer to 99% accurate, but basically the 1st round confirmed her Ds. We had a definitive answer.
In the midst of this news we named our daughter. Mark suggested Sophia and I instantly agreed. It had been on the top of my list since my pregnancy with Alexander. Sophia is Greek for wisdom. This was the easiest major joint decision we ever made.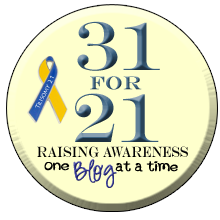 Grab This Button